Play the right ball
Not only is playing with the same model of golf ball each round important for your consistency, but you need to make sure that you're taking to the course with a ball that suits your game and feel preferences. Comparing different balls is a great way to narrow down what you are after.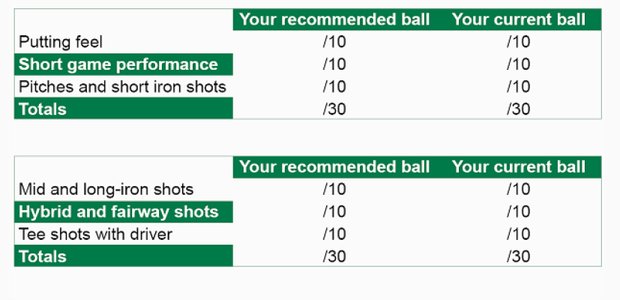 During a chat about your goals, price range and personal preferences we can make a few ball recommendations for you to go and try. Why not use the above scoring system when out on the course to determine which ball is best for your game?
SHORT GAME FIRST
Side-by-side testing should make it easier to notice any preferences you have, but if you don't have a clear winner we'd always recommend prioritising the ball you prefer around the greens, as this is where you take the majority of your shots and what influences your final score the most.
Both the Titleist Pro V1 and Pro V1x golf balls are very popular in store because they offer total performance. So you get very soft feel with tour proven short game control as well as exceptional distance. Each ball also has some subtle differences to suit various needs, which we can discuss before your on course testing.
Back to Articles